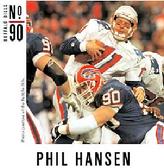 Phil Hansen, Former Buffalo Bills Defensive End "GiveBack starts with an individual and a simple thought about helping others..." Phil Hansen
Phil Hansen Participated
in 2008 Cando Connection
Golf Tournament


On July 19, 2007, Phil Hansen, former Buffalo Bills defensive end and Oakes, ND native was presented with the first Impact Foundation "GiveBack Champion Award" in recognition of his generous GiveBack of time, talent, and treasure for the betterment of others, and as an inspiration for all of us to follow in his footsteps. Phil's GiveBack continued as he graciously agreed to be a participant in our first Cando Connection Golf Tournament. As he said to Cindy Eggl recently, "I have a Cando Connection, which is you, so I suppose I should mark my calendar and plan to play in your tournament," to which Cindy replied, "That would be wonderful!" We are honored that Phil considered GivingBack to Cando by participating in our event.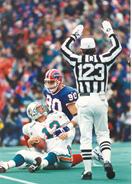 "Basic things will always get you though - hard work, determination, and truth. Put in an honest day's work, and you will get an honest day's pay." Phil Hansen
More About Phil Hansen
Phil Hansen is a native of Oakes, North Dakota. He was raised on his family's 4,000 acre farm, played football for his high school team, and was named a two-time all-conference selection. He earned a bachelor's degree from NDSU in agricultural economics in 1991. At NDSU, Phil helped bring home three national championships in 1986, 1988, and 1990. He was named twice as a first-team All-American. In 1991, Phil was drafted by the Buffalo Bills in the 2nd Round. He competed in 11 seasons as a defensive end with the Buffalo Bills, ranks 2
nd
in the Bill's All-Time Sack Leaders stats with 61.5 sacks, and served as a captain for 5 years. He started in 148 out of 156 regular games, and played in three Super Bowls.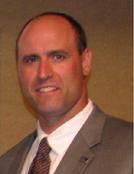 Phil Hansen, Color Analyst, NDSU Bison Football and Former Host of the Craig Bohl Football Show
In January 2002, Phil retired from professional football, and moved back to the Detroit Lakes, MN area. He and his wife, Dianna, are the parents of three children – Hope, Jillian, and Ross.

Phil and Dianna Hansen share their time, talent, and treasure with a number of nonprofit charities in North Dakota and Minnesota. They are both members of Dakota Medical Foundation (DMF), have established the Phil and Dianna Hansen Family Fund and The Charitable Champions Fund at DMF, and generously support many of the health-related nonprofit partners of the Foundation.

Since his return to this area, Phil has been recognized with a number of honors, including being named to the North Dakota Hall of Fame in 2002, the Division 2 Football Hall of Fame in 2004, the NDSU Hall of Fame in 2005, and the Oakes North Dakota Hall of Fame in 2006. In addition to owning and operating his own landscaping business, Phil works as a color analyst for the NDSU Bison football team, and formerly hosted the Craig Bohl Football Show.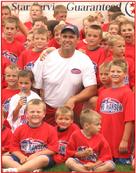 Phil enjoyed hosting his annual Kamp for Kids encouraging sportsmanship and fitness.
Phil Hansen lives a GiveBack life – he leads by example through word and deed.

In 2001, he received the NDSU Horizon Award for outstanding career accomplishments and community service within ten years of graduation, and in 2006 was presented with the Ralph C. Wilson Distinguished Service Award recognizing former Buffalo Bills players for their community service. He shared his time and talent each summer by leading NFL-sponsored sportsmanship and fitness camps for youth ages 5-13 in Fargo, Detroit Lakes, and Wahpeton. Phil gives motivational speeches for youth and adult sports groups, church groups, and area businesses.

The values that guide his life provide the themes of his speaking engagements – sportsmanship, fitness, concern for others, hard work, and positive attitude.
2023 Copyright. Impact-Cando Connection Fund