Our sincere thank you to the following individuals, families, and businesses/organizations for their support of the Impact-Cando Connection Fund through participating as a hole sponsor for our 2008 Cando Connection Golf Tournament. The cost of sponsoring a hole for the 2008 tournament was $250.


2008 TOURNAMENT HOLE SPONSORS
In Honor of the Cando Arts Council by an Anonymous Donor
Cando Dairy Queen and Tesoro Food Mart - R.J. and Katie Miller and Family
Country Bank USA
DP3 Architects - Mark S. Eggl, AIA
Cindy and Jill Eggl - The Golfing Hobbits
Jan and Fred Eggl Family - Sportsman's Motel
First State Bank of Cando
Gibbens Law Office - J. Bruce and Lisa Gibbens
Kip and Dalia Haugen - In Memory of Don and Carol Haugen
N2N Matters, Inc. - Dalia Haugen
Nodak Mutual Insurance Company - Jeff Miller
Northwestern Mutual Financial Network - Patrick Gores, Managing Partner
Overton Family
Randy Papachek
Ron Papachek
Rusty and Neva Papachek and Family

Traynor Farms - Pat and Jamie Traynor and Family
Ulteig Engineers, Inc.
VISIONBank
Vogel Law Firm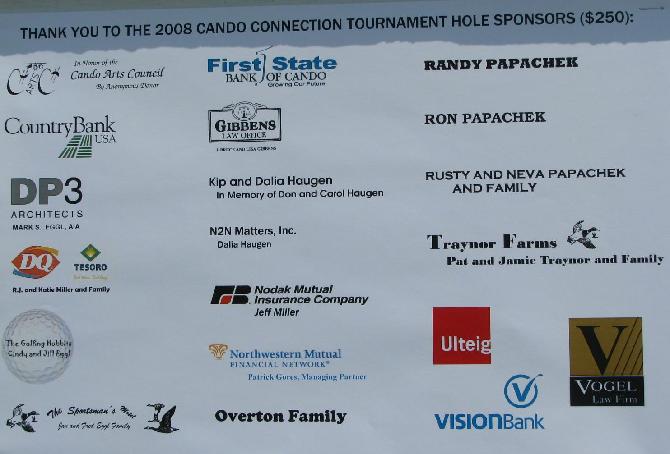 Thank you to our hole sponsors!
2023 Copyright. Impact-Cando Connection Fund